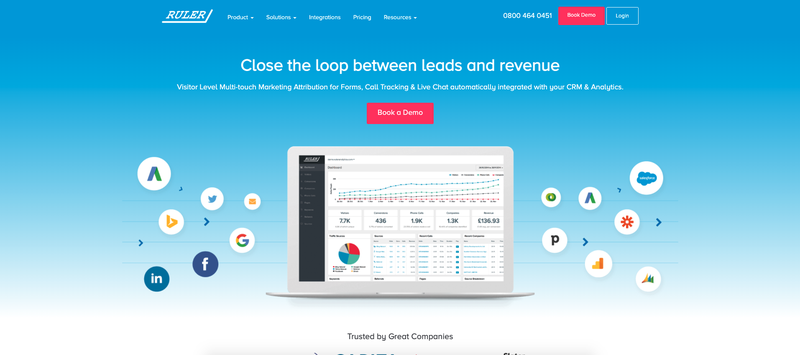 Ruler Analytics is a marketing attribution and call tracking software product.
It helps you to close the loop between your traffic, leads and revenue. Essentially, it attributes the correct source for all of your revenue unlike Google Analytics.
It also tracks, records and attributes phone calls to marketing channels.
Fun fact:
Myself and Alex both worked at Ruler Analytics back when Ian Leadbetter and Daniel Reilly had just started the company so we really understand the product.
Alex built their core product and features, whilst I helped them to get initial leads by growth hacking on the Lead Forensics brand name. This was when their product was also focused on company identification, something they no longer support.
Since then, Alex and I launched Fresh Lead Finder, a cloud-based local lead finding tool for B2B companies. A lot of our success is thanks to our experience at Ruler.
The founders are great guys and are providing a great solution.
So I hope this Ruler Analytics review will help.
How Ruler Analytics Works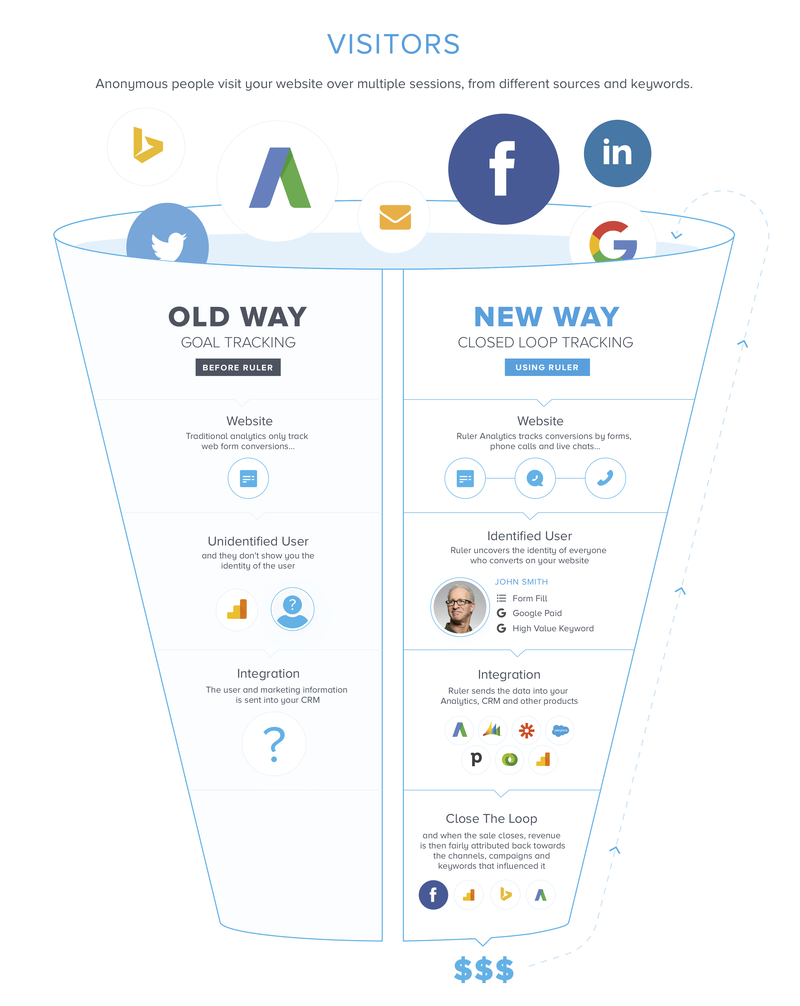 Every successful or growing business is, or should be, utilising multi-touch marketing.
In layman's terms that means driving traffic to your business website via a variety of different marketing channels. Organic, paid, email, social, retargeting, etc.
But there's a fundamental issue with that.
Google Analytics uses last-click attribution modelling.
That means credit for any goal completions or sales will be given to the marketing channel which drove visitors to your website last.
But you simply cannot accurately calculate your true ROI this way.
This is a problem for a variety of reasons:
Marketing teams don't get credit for their hard work
Budgets look like they could be better spent elsewhere
You don't truly understand your marketing funnel
Ruler Analytics is the solution to this unnecessary and avoidable problem.
It will take all of the individual visits from your website traffic and put them together into complete visitor journeys, containing every action that led to every conversion.
This closes the loop on your marketing efforts.
Marketing teams will then get the pat on the back they deserve and, more importantly, you'll understand the true ROI and know where to spend more, or spend less.
What Ruler Analytics does:
Correctly attribute leads and sales revenue to marketing channels
Track and record phone calls with dynamic numbers
Automatically grab form data, even if it is not submitted
Built full visitor journeys with profile enrichment
Who Ruler Analytics is Good For
It's more a question of who shouldn't use it, because it provides invaluable insight.
Every website or business that is actively investing time and/or money on their inbound marketing activity should want to know the exact ROI on their spending.
I think it is especially great for companies that get a lot of inbound phone calls via their website. The call tracking functionality and additional attribution benefits provided in Ruler Analytics can really help you to understand what is driving every phone call.
You should use Ruler Analytics if:
You get a lot of phone calls but don't know where they're coming from
You're unsure of your exact return on investment
You don't really understand your current marketing funnel
You want to see how users interact with your website
You want to scrape contact form data
Who it's not good for:
Of course there are times where I wouldn't recommend using Ruler Analytics.
Websites providing content, like news, communities and entertainment. These would gain absolutely nothing from using Ruler, because they monetise with ads.
Ruler Analytics Pricing
Let's take a look at their pricing options now.
Marketing Attribution Product
Their marketing attribution package starts at $140 (£99) per month.
That's very reasonable, at least on the surface.
But that's just the starting price and your actual price is dependent on your unique visitor traffic levels per month. They don't show how many visitors that's for.
That won't be viable for most businesses, but it will be for many.
Call Tracking Product
Call tracking, on the other hand, is very expensive.
That starts from $140 (£99) just like the attribution package, but that is without the per minute costs of calls thereafter. So it is going to get very expensive.
In my opinion the monthly fee for the call tracking should start at £50.
I think they'd get a lot more users at that price point.
Multi-product Discount
With all of that being said, they do offer both software packages for a lower price of $211 (£150) per month, which is equal to a 25% discount.
Ruler Analytics Set-up Guide
Setting up Ruler Analytics is really simple, just like Google Analytics.
All that's required is the placement of a JavaScript tracking code on your website. This should be placed on all of the pages you want to track.
You'll be given a code similar to this:
This needs be placed before the closing </body> on every page of your website.
Adding Ruler Analytics to WordPress:
There isn't currently a dedicated Ruler Analytics WordPress plugin.
But installing on WordPress is very easy, just choose one of the options below.
Two options:
Manually add to your footer.php file
Install a plugin to do it for you
1 - Adding to Footer.php
To get started - login to your WordPress admin area.
Navigate to Appearance > Theme Editor.
Find footer.php in the Theme Files section at the side of the screen, and click on it.
Now do a search in this file for </body> and it should jump to the bottom of the page with that selected unless you're running a more complicated theme.
Paste in the code directly before the closing body tag.
Click Save File. You're done!
2 - Using a Plugin
If you'd rather not edit any WordPress files, install this plugin.
It's called Header and Footer Scripts and it'll enable you to quickly and easily paste the code into the footer of all pages on your WordPress site without editing code.
Once installed, head to Settings > Header and Footer Scripts.
Paste the code in the Scripts in footer text area.
Click Save settings. You're done!
Ruler Analytics is now set up on your website.
Conclusion for Ruler Analytics
Ruler Analytics will make a fantastic and worthy addition to your marketing tech stack.
The marketing attribution is brilliant for closing the loop and helping you to better understand your true ROI, and I'd say it's worth the £99 monthly cost.
If you can afford it, use it.
Although for the call tracking I'd probably recommend an alternative.
CallRail or CallTrackingMetrics are pretty good, and more cost-effective.
Finally, a few gripes:
I wouldn't use it unless it was a self-serve product - going through a demo with a human for such a low-cost product doesn't really make sense.
I'd like to see the call tracking beginning at $49 per month.
I still don't like the logo (haha).